(

SLUSH CREEKS JUBAL S

x

ARROWS COLORADO GOLD

)
15.1 hand, black Tennessee Walking Horse mare. Should mature at 15.3 hands. Foaled 04/21/2008. Horse is located in Montana. Overseas transport can be arranged.
"Onyx" is going to be 3 this spring and will soon be going to the trainers. She has an excellent gait, great bone and conformation. She is going to be tall and she's already smart. Her price will go up as soon as she leaves for the trainers. She is current on all vaccinations and de-worming.
~~Sold to The Dominican Republic~~
Indeed, we are very happy with both of them. Onix is more proactive than Jubie and somehow a bit more elegant. On the other hand Jubie is a year younger than Onix and still has enough time to develop. They both behave very well, and temperament wise, they are very mature.
Our helper, Juan (the fellow riding Onix) is happy with them and finds them extremely comfortable in their gait .
My wife and I are very happy with Slush Creek Walkers, for the quality of horses and service provided to us .
Thank you for all your help ,
FAL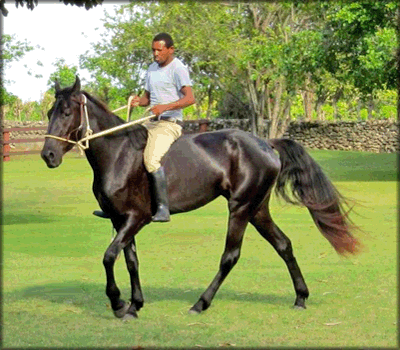 Here is a new picture of SCW Jubal's Onyx Diva in the Dominican Republic.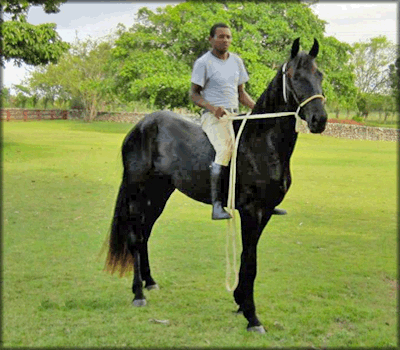 Reference horses courtesy of

The Ancestor Gallery

BACK
Last Updated: December 27, 2016