MILLER'S SUPER MAN


Slush Creeks Jubal S
06/23/1991 - 12/30/2013
Our hearts are broken.

(

MILLER'S SUPER MAN

x EBONY'S GINGERALE)
A 16.1 hand, black minimal sabino grandson of Sun's Merry Man, this beautiful Tennessee Walking Horse stallion offers VERY rare access to the bloodlines of the incomparable Hill's Perfection. Hill's Perfection Progeny.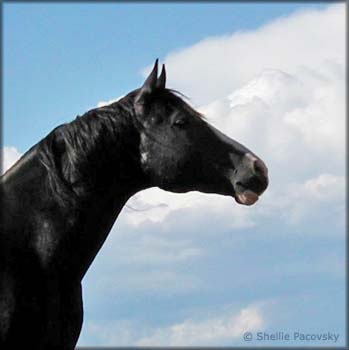 Slush Creek's Jubal S is the product of the late Calvin Millers breeding program. Calvin bred, trained, rode, and used Tennessee Walking Horses for ranch work for 30+ years. "Jubal" was the last stallion to come off the famed Double Diamond Ranch.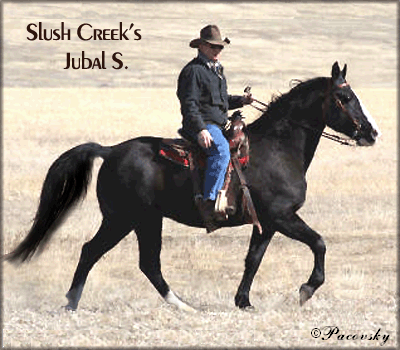 Slush Creek's Jubal S. is a black minimal sabino. We get a couple of lit-up sabino foals, out of solid mares every year. He has an exceptionally quiet and gentle nature, a nice natural running walk and a gorgeous head. He stands 16.1 hands with the thicker, heavier, using/pleasure horse body style. He has been given the nickname ,"The Gentle Giant", by those that have met him in person. It has been said "you just can't beat that Jubal disposition" and "for size and bone, he's the man!"
Jubal LOVES people and attention. He will leave his broodmare band to get the attention he desires. He has been ridden away from his mares bareback with only a halter and lead rope on. Jubal passes on these outstanding qualities to his foals, which makes them a pleasure to train. Most of his offspring have been trained by their amateur owners.
Another claim to fame for Jubal is that the 14 time World Champion, Hill's Perfection will still show on his foals' registration papers. (Hill's Perfection's registered name was Reyclif Mid-Merry #561395 and that was not changed; he was only campaigned as Hills Perfection). Sun's Merry Man, the only offspring by Hill's Perfection to reproduce, was owned by and stood at the Double Diamond Ranch for many years. Sun's Merry Man progeny.

Slush Creeks Jubal S. has NEVER worn shoes in his life. He is DNA-tested - E/e N/SB1. (E/e means both red and black factors have been detected. He can contribute either E (black) or e (red) to his offspring. The N/SB1 means only one copy of the Sabino 1 gene has been detected.)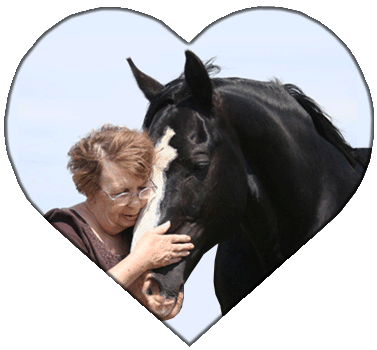 This is my step-mom, Angie Stroklund. I love the look on Jubal's face,
his eyes half closed because he is enjoying it.

An examination of Slush Creek's Jubal S.'s Extended Pedigree reveals that the amount of genetic input from Roan Allen F-38 blood is nearly equivalent to that of a grandsire; and the percentages of Merry Boy, Midnight Sun and Wilson's Allen genes are all significantly greater than that of a great-grandsire. The percentages of old walking bloodlines are as follows:
Click HERE for a 14 generation extended pedigree analysis.
Reference horses courtesy of

The Ancestor Gallery
MILLER'S SUPER MAN

SUN'S MERRY MAN

REYCLIF MID-MERRY

MIDNIGHT SUN
BABY RAY
LADY'S HIGH CALICO
GOLDEN SUN ALLEN
LADY HIGH HEELS
PLAYBOY'S DREAM
LIBERACE'S PLAYBOY

EAGLE'S MR. LIBERACE

BOND RALLY
MILLER DIXIE ALLEN
MERRY BOYS MAJOR
WILSON'S DIXIE STONE
SLUSH CREEKS JUBAL S #917961
SEX: Stallion COLOR: Black MARKINGS: Both hind stockings, lower lip, blaze. FOALED: 06/25/1991
EBONY'S GINGERALE
EBONY'S REFLECTION M.
A MASTERPIECE
EBONY MASTERPIECE
GO BOY'S MERRY BIRD
HI-HAT'S SUNDAY SILK
DOUBLE J'S MR. HI-HAT
FAST DELIVERY
COCOA'S GINGER
SUN'S MERRY MAN
REYCLIF MID-MERRY
LADY'S HIGH CALICO
PLAYBOY'S COCOA
LIBERACE'S PLAYBOY
WILSON'S QUEENIE F.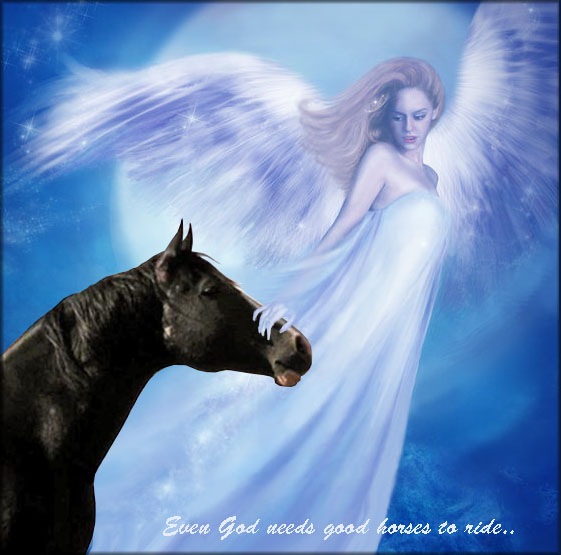 Slush Creeks Jubal S
06/23/1991 - 12/30/2013.
Our hearts are broken.
Click here for

BACK
Last Updated: December 30, 2017