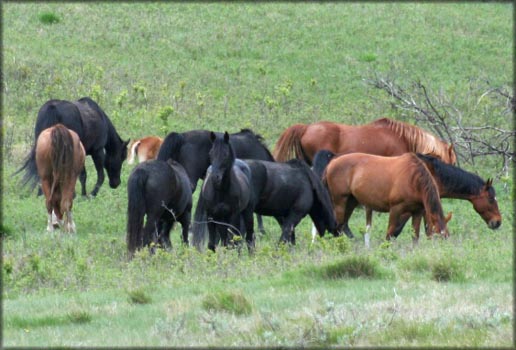 Here at Slush Creek Walkers we have spent the last 20 years carefully choosing these mares and only the very best get to be broodmares… There are several things we consider when deciding if a mare will get to breed.
| | |
| --- | --- |
| | First is her gait, we want it to be natural, smooth and comfortable. We don't believe in taking a poorly gaited mare and breeding her to a good stallion to improve her gait. That kind of breeding is a crap shoot, you may or may not end up with what you want. Instead we want to take a natural, nicely gaited mare to a natural, nicely gaited stallion, then, to our way of thinking your chances for a nicely gaited foal are much better. If you breed the best to the best it is hard to go wrong. |
| | |
| --- | --- |
| | We also look at her disposition: we want her to be quiet, sane, smart… a people horse. Again, if you breed an ill-tempered mare even to the best tempered stallion, it is a crap-shoot. Will the foal take after the mare or the sire? |
| | |
| --- | --- |
| | We also study their conformation, which, in some ways goes back to gait. We don't want the neck to be too long or too short, or the hocks to be sickle-shaped or posted, or the shoulder too steep. All of these things lend to getting that nice, natural gait we are looking for. We also like good bone and good muscle so that is one of the things we look for when considering conformation. |
There are many considerations when choosing which mare to breed; the foals are going to represent your breeding program and we only want the best representation. These horses are ranch/range raised. They are exposed to all forms of wildlife, and the elements from the time they are born. They have not been raised in a barn or stall. These horses live IN the great outdoors! We feel the mares listed on this page are going to do that for us, so three cheers for the mares that made the cut!!

Slush Creek Heritage horses have been tagged by color-coded stars for your convenience.


=

Heritage-certified

.

=eligible to be

Heritage-certified

.

=

Foundation Heritage Horses

SCW LITTLE RASCALS DARLA #21200460 - (

THE LITTLE RED RASCAL

x

Zephyr Dakota Breeze

). Darla is a pretty little sorrel

Tennessee Walking Horse, with a blaze, a near hind stocking, and near fore coronet.

She is certified with the

Heritage Society

. We are so pleased with the foals by The Little Red Rascal, and Zephyr Dakota Breeze is one of our oldest and most proven broodmares. This mare adds Roy Rogers Trigger Jr. (Allen's Gold Zephyr) to the filly's pedigree. She is 15 hands. Foaled 04/11/2012.

VIDEO



SCW RED HEADED LIL

TWHBEA #

20801152 (

SLUSH CREEKS JUBAL S

x

LEHMAN'S BLACK DIXIE

)

15 hand sorrel sabino Tennessee Walking Horse mare, with both hind stockings, lower lip, and a blaze. Lilly is back from training where she did very well. Lilly is very soft in the face and mouth and has only been ridden in a hackamore. She is started on neck reining and doing well there too. She is certified with the

Heritage Society

. Foaled 06/10/2008. VIDEO

| | |
| --- | --- |
| | KODIAK'S MISS REFLECT CF #20206024 - Missy is a sorrel Tennessee Walking Horse mare with a pretty head, an elegant neck and classic conformation. She is by Williams Kodiak, out of Playmans Fantastic Lady. She is 15.3 hands. Missy has a nice gait and tends to be more square-moving. Her breeder is Lexie Cole in Canada. We are very pleased with the foals by our stallions. Foaled 04/28/2002. |

| | |
| --- | --- |
| | KODIAK'S GEMINI CF #20206024 - "Gem" is a lovely 15.3 hand black Tennessee Walking Horse mare with a star. She has a short-coupled body and a pretty head. She is by Williams Kodiak, out of Go Boy's Sun Dee Silence. She has a nice gait and good bone. Her breeder is Lexie Cole in Canada. We are very pleased with the foals by our stallions. Foaled 05/18/2001. |

| | |
| --- | --- |
| | KODIAK'S BELLA CF #20507715 - Bella is a big chestnut Tennessee Walking Horse mare standing 16.3 hands. She is by Williams Kodiak, out of Go Boy's Sun Dee Silence. She has the bone to match her size. There is no swing to her gait. Her breeder is Lexie Cole out of Canada. We are very pleased with the foals by our stallions. Foaled 04/28/2005. |


SCW READY FOR MIDNIGHT TWHBEA #21000607 (DELIGHT'S MIDNIGHT LEGEND x ZEPHYR GOOD AND READY) Bay Tennessee Walking Horse mare, with a star. Should mature at 15.1 hands. She is certified with the

Heritage Society

. Foaled 04/23/2010.

VIDEO

RED BUD'S BULLET SERENADE TWHBEA #

20609600 (

RED BUD'S RAMBLING SLIM

x

BUD'S SPRING SERENADE

)

Sorrel Tennessee Walking Horse mare, with a near hind stocking, off hind sock, and a star. She is certified with the

Heritage Society

. Foaled 04/27/2006. VIDEO






BACK


Last Updated: January 09, 2018