Reyclif Mid-Merry #561395
aka "Hills Perfection"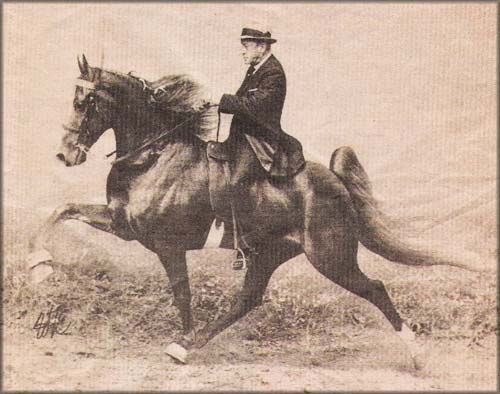 From 1963 until 1975, Hill's Perfection claimed Celebration blues in nearly every division.

Reyclif Mid-Merry was the registered name of multi-world champion "Hills Perfection". His sire was Midnight Sun and his dam was Baby Ray by Merry Boy. His registered name, Reyclif Mid-Merry, was never officially changed because he had sired 4 foals, but he was campaigned as Hills Perfection.

The foals that he sired were Suns Merry Iris (mare), Sun's Merry Robin (gelding), Suns Merry Mister (stallion, died as a yearling in Canada), Suns Merry Man, (stallion and the only one of the four to reproduce).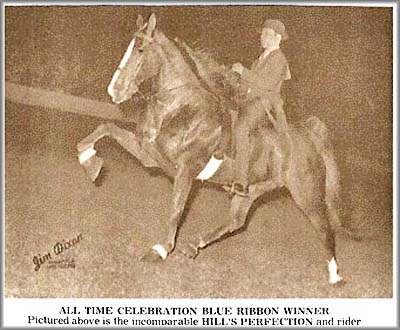 Hill's Perfection was pasture breeding mares in North Dakota until age 5 when Steve Hill started developing him for the show ring. Steve Hill called him a "hidden horse" and had this to say about him

"the horse has no physical flaw that I can detect. He has a natural lick; he possesses a rare rhythm, hard to find in most horses; he executes the gaits separately and distinctly; has the speed to cope with any other animal of the breed; and he shows the natural head motion that identifies perfectly the Tennessee Walking Horse".

In 1963 he competed in the Celebration and Steve Hill rode him to the World Championship for the Aged Gelding class. He then returned in the championship Stake for a 3rd place behind Sun's Delight D and Triple Threat. From 1963 until 1975 he claimed Celebration blues in nearly every division. He is said to have "established the most impressive Celebration record of any horse in history".

Hill's Perfection died in 1983 at the age of 28. His last owner of record was Ross Perot Jr. Most of this information came from some articles and a couple of pictures sent to me by Mr. Perot. We would also like to thank Kim Lovette for her contributions to this page.

Reference horses courtesy of

The Ancestor Gallery

iPeds Production
05/10/11

Horse No: 561395 REYCLIF MID-MERRY

Horse No.
Name
Sx
Bl
DN
Foaled
Dam's No.
Dam's Name
590511
SUNS MERRY IRIS
M
N
N
5/14/1959
531130
WILSONS GOLD QUEEN
590512
SUN'S MERRY ROBIN
G
N
N
6/05/1959
540232
LADY'S HIGH CALICO
601518
SUN'S MERRY MISTER
S
N
N
7/10/1960
540232
LADY'S HIGH CALICO

620157

SUN'S MERRY MAN

S
N
N
1/01/1961
540232
LADY'S HIGH CALICO

Hill's Perfection
A Hidden Horse with a Great Future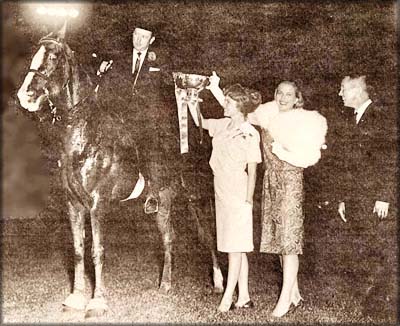 "A horse without a physical flaw," six-year-old HILL'S PERFECTION, made his debut at the 1963 National Celebration by seizing the trophy in the Four-Years and Older Gelding Class to become the World's Champion Gelding, and he promises to be contender for the World's Grand Championship in future seasons. He took third place in the Grand Championship battle this year - chosen by the judges for the three-horse workout with SUN'S DELIGHT, Sam Pashal up, and TRIPLE THREAT, ridden by Harold Kennedy.
HILL'S PERFECTION had been a "hidden horse" since his foaling in Iowa - until the day Steve Hill bought the animal as a stallion, aged four years, six months. He had been running in North Dakota with mares, engaged in "pasture breeding."
Steve had a man-sized job in breaking the strong stallion, and he gelded the stalwart son of MIDNIGHT SUN our of BABY RAY by MERRY BOY in the process of developing the great gelding within a period of eighteen months.
HILL'S PERFECTION swept the blue ribbon in his class at the Chicago International last fall, first of his major show victories. Then the horse campaigned in Middle Tennessee to win at the spring show in Nashville, at Manchester, at Huntsville, and at Murfreesboro.
Steve says the horse has no physical flaw that he has been able to detect. He has a natural lick; he possesses a rare rhythm, hard to find in most horses; he executes the gaits separately and distinctly; he has speed to cope with any other animal of the breed; and he also shows the natural head motion that identifies perfectly the Tennessee Walking Horse.
Oldest Active Trainer in Show
The veteran rider-trainer, oldest in years of service among all the active trainers showing at the Celebration of 1963, believes this gelding will "last for years" as a contender for top honors. And Steve should know. He sat on the back of TALK OF THE TOWN, a gelding who won the Grand Championship of the World in 1951-52-53 - and set the record no other horse has equaled.
HILL'S PERFECTION won his class with a judge-referee vote for first place and was a unanimous choice for third place in the Grand Championship Stake in which fifteen horses competed.
Steve Hill won four blue ribbons and a third place to lead all professional riders at the 1963 Big Show. He was ridden in every one of the 25 Celebrations - and rode STROLLING MARY to the Two-Year Championship in the 1939 Celebration that started the historic show on its march to great glory. He also owned his victorious horse that year.
HILL'S PERFECTION was sold in 1962 to Mrs. Dwain Clark of Beverly Hills, California. Mr. Clark is a regional vice-president of the Tennessee Walking Horse Breeders' and Exhibitors' Association of America, Inc., for the Far-Western California area.
Steve rode to the blue ribbon the great eight-year-old mare, LITTLE MYSTERY, which again became the World Champion Mare and was one of the few champions to repeat at the 1963 Celebration. LITTLE MYSTERY is owned by W.C. MacInnes of Tampa, Florida, one of the most prominent utility magnates in the Southeast. The mare was sired by MERRY GO BOY out of the famous MIDNIGHT MYSTERY twice American Champion Mare.

Hill's Perfection's Story
In the early 1960's Steve Hill received a letter from a man in North Dakota who said that he had a Midnight Sun stallion that he would like to sell. The horse was 5 years old and unbroken. The owner informed Steve that should he, Steve, not wish to buy the horse that the owner desired that the animal be trained. Steve explained to the owner that an unbroken stallion was not the most valuable property imaginable, but that if he wished to pay the training bill, Steve would be glad to handle the horse. The owner agreed to bring the horse to Beech Grove.

Johnny Brown and Buddy Hugh were working with Steve at the time. One day they looked up and saw a rather modest, run-down truck pull up in front of the barn. In the truck were two horses, the stallion and another horse that seemed somewhat more impressive. Steve was not at the barn that afternoon so the two horses were unloaded and the owner of the two horses went on his way. Neither Johnny or Buddy were overly impressed with the horses especially when they learned that the stallion had been running on the range with a group of western mares. Since Johnny and Buddy were expected to ride the horses, they each chose one and, as it turned out, Buddy Hugh wound up with the stallion. Johnny took the companion horse. The first time the stallion was ridden, nothing of note happened, but by the next day, everything had changed.

Buddy took him on a cross-country ride through the village of Beech Grove to a near-by farm. The stallion, which would later be known as Hill's Perfection, reacted radically to the experience. Sighting a group of mares in a nearby field, the stallion immediately anticipated a visit in that direction. Despite all the discouragement that Buddy could bring to bear, the stallion made the visit. He went to the center of the group of mares, knickering, kicking, squealing and rearing at every step. Buddy stayed on his back, but it was an experience he did not wish to repeat. Besides being an "ornery cuss" the horse showed little talent when it came to walking. A decision was made to castrate him and while he was asleep, they also cut his tail. Steve remembered, "It took three years to get him together. He was tough, he was big, and had been running loose on a ranch with a bunch of mares".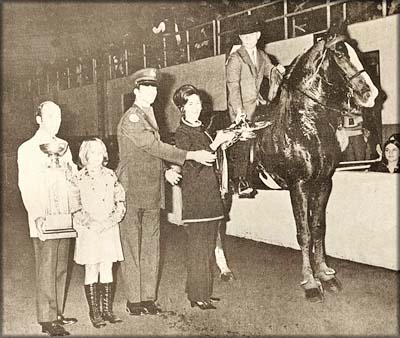 Hill's Perfection and Ross Perot Jr.
Hills Perfection made his ring debut in 1963, and launched what is, no doubt, one of the most outstanding show careers of any Walking Horse. Steve won the aged gelding Class at the Celebration, and tied behind Sun's Delight and Triple Threat in the Championship Stake. In 1964 Hill's Perfection repeated as World Champion gelding but slipped to fourth in The Stake behind Carbon Copy, Triple Threat and Go Boy's Sun Dust. It is interesting to note that through the years, every horse that beat Hill's Perfection in the Big Stake went on to become a World Grand Champion. In subsequent years, the incomparable gelding went on to establish the most impressive Celebration record of any horse in history.

That record is:
1963 - First, Aged Geldings - Third Championship Stake
1964 - First, Aged geldings - Fourth Championship Stake
1965 - First, Ladies Amateur _ First Ladies Amateur Stake
1966 - Second, Juvenile Riders - Second Juvenile Riders Stake
1967 - Second, Juvenile Riders
1968 - Second, Juvenile Riders - Second Juvenile Stake
1969 - First, Juvenile Riders - First, Juvenile Stake
1970 - First, Juvenile Riders - First Juvenile Stake
1971 - Second, Juvenile Riders - Second Juvenile Stake
1972 - First, Juvenile Riders - Second Juvenile Stake
1973 - First, Juvenile Riders - First Juvenile Stake
1974 - First, Juvenile Riders - First Juvenile Stake
1975 - First, Juvenile Riders - Third Juvenile Stake
1976 - Second, Juvenile riders - Second Juvenile stake

This story is entirely excerpted by writings of Bob Womack.

A couple of footnotes.

The other horse or "companion horse" that made the trip to TN is called a roan in The Echo of Hoofbeats by Bob Womack. I am told that this roan was by Hill's Perfection and was a gelding. If my information is correct, that would mean the companion horse had to be Sun's Merry Robin. He was the only gelding by Hill's Perfection.

There were 4 foals sired by Hill's Perfection, prior to him being gelded.
Sun's Merry Iris 590511, a yellow mare that did not reproduce.
Sun's Merry Robin 590512, a sorrel gelding.
Sun's Merry Mister 601518, a stallion sold to Canada which died as a yearling.
Sun's Merry Man 620157, a stallion stood by Calvin Miller of the Double Diamond Ranch. He sired 174 foals and is the only one of the four to reproduce.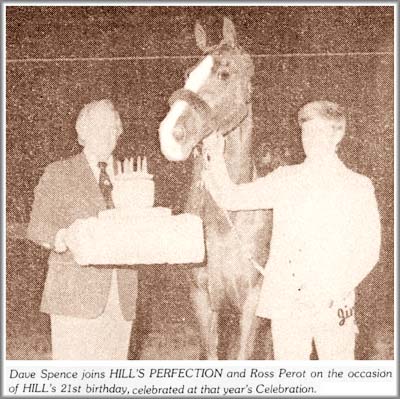 The list of owners of Hill's Perfection are:

C.R. Clifton -1-1-1956

James L Gores - 11-9-1957 He transported Hill's Perfection from North Dakota to TN to Steve Hill in the truck.

Steve Hill 5-22-1962

Charles Sego 6-15-1962

Steve Hill 11-15-1962

Harriet R. Clark 11-20-1962

Hank Sheely 3-1-1965

Frank D. Mason 6-13-1965

Rex L. Lovette - 7-20-1966 His daughter, Kim Lovette, showed Hill to a number of his wins including the 1969 and 1970 Juvenile 15-17 Class and Juvenile World Grand Championships, and has provided several pictures for this page.

H. Ross Perot from 12-11-1970 until his death.
| | |
| --- | --- |
| | Hill's Perfection was only shown and campaigned as Hill's Perfection. His name could not be changed because he had already sired foals. His registered name was Reyclif Mid-Merry. He died in the fall of 1983 at the age of 27. |
C.A. Bobo described Hill's Perfection as a one of a kind horse and credited him with winning the industry more fans than any other ambassador. He was used in the United states Department of Agriculture clinics. This statement is from the Walking Horse Report on October 17, 1983 and part of Hill's Perfections Obituary.
| | |
| --- | --- |
| This picture appeared in The Tennessean...a Nashville newspaper; during the 1969 Celebration. Pictured are two grooms for CA Bobo....the caption read "Hill's Perfection gets a careful grooming by Glenn Peacock (15) and Vernon Smith (13) before his class at this year's Tennessee Walking Horse National Celebration in Shelbyville Tn." | |
In an old Voice article titled Hill's Perfection: A Hidden Horse with a great future, Steve Hill said Hill's Perfection had been a "hidden horse" and Steve also said "that he has no physical flaw that he has been able to detect. He has a natural lick; he possesses a rare rhythm, hard to find in most horses; he executes the gaits separately and distinctly; he has the speed to cope with any other animal of the breed; he also shows the natural head motion that identifies perfectly the Tennessee Walking Horse."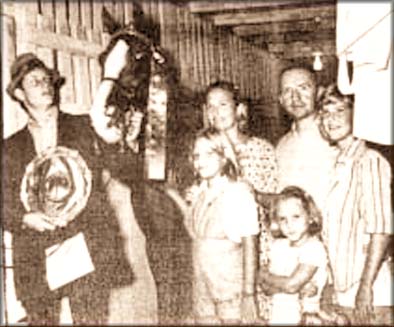 Kim Lovette's Story of Hill's Perfection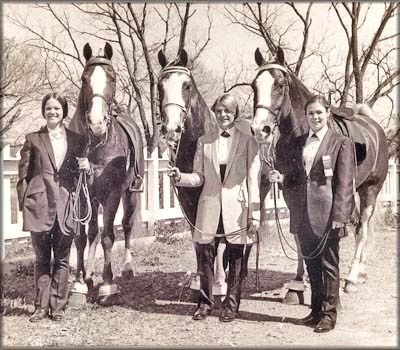 Left: Kim Lovette and Hill's Perfection, Silver Shadows Replica and Cissy Best,
Moonglow Jr and Burt Daugette 1968
From: Kim Gentry
Sent: Friday, February 25, 2011 1:39 AM
To: Shellie Pacovsky
Subject: Re: Hills Perfection
Dear Shellie,

My daddy bought HP shortly after June of 1966 and C.A.Bobo was to train him. We went straight on to Collierville (GLL Farms) from Steve Hill's stables. GLL Farms was the home of GLL's Carbon Copy, the 1964 World Grand Champion. Mr. Lenox, the owner of GLL Farms, had hired Mr. Bobo to come out to Collierville to train his horses. When we went out there we were guests of the Lenox's. The guest house was in their barn, now, this barn was not just a barn it was a showplace!! One of the rooms in the guest house had a large plate glass window where you could look into Carbon Copy's stall. I loved that!!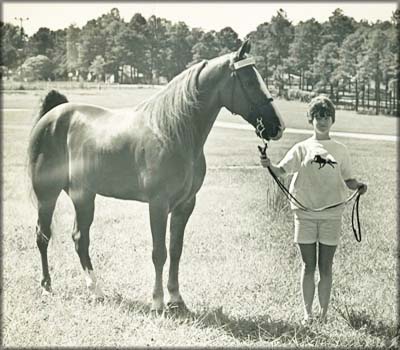 Hill's Perfection - Kim Lovette 1967
On our first night out there, Mr. Lenox had the staff prepare a surprise for me and, boy was I ever surprised!! I had seen Carbon Copy in his stall when we toured the farm upon our arrival. Anyway, as we retired to the guest house that evening, Mr. Lenox took us in and was showing us around. Then he took me into the living room where that big window, covered with heavy red velvet drapes, looked into Carbon Copy's stall. Mr. Lenox started pulling the draperies open and I was excited because I was going to get to see Copy again BUT all of a sudden everything grew bright and I let out this high pitched excited squeal...there WAS Hill's Perfection, happily chomping on hay and looking right back through that glass window at me!!! I was ecstatic... I know I must have acted very silly but I was one very happy little girl!! Mr. Lenox just stood there with the biggest grin on his face, I know he was almost as happy as I was just watching my reaction. I don't know if I slept much that night because I was gazing through that window all night!! The next day HP went back to his stall and Carbon Copy came back to his, which was fine, the thrill I felt when that curtain opened was enough to last a lifetime!!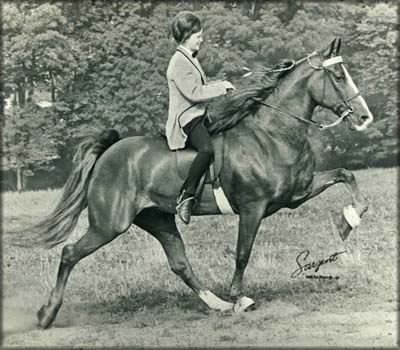 Hill's Perfection - Kim Lovette 1967
I believe you had asked about Hill's Perfection's gait and disposition. He did have a wonderful disposition. He was a gentle and wise old soul...totally level-headed and never any silliness; you could always depend on him to be there to flick an ear if you wanted to go in the stall and talk :) He loved having his neck scratched and was also fond of a good tickle on his muzzle. Of course as I mentioned earlier he never lost his "friskiness" either and this was fine by me; it assured me that he felt good. I liked to think he was having a vivid memory of those days from his past when he ran wild with his herd of mares out on the North Dakota range. It always made me smile when I would feel one of his little bucks and a snort!! That horse had so much heart! He never quit...he left the ring doing the same wonderful gait as when he entered it. A natural going, head shakin' walk, every step in time, true gaited Tennessee Walking Horse (and a direct son of Midnight Sun which we were seeing fewer and fewer of in the show ring.

Hill's Perfection Kim Lovette up -1968 NC State Championship

I showed Hill's Perfection in 1966 out of GLL Farms with C.A. Bobo in the Tn. "one-night" horse shows; Lexington Junior League (Ky); Houston Pin Oak (Tx); and at The Celebration . We would go to the fall shows in Montgomery, Al.; NC State Championships (Raleigh, NC) and Baton Rouge, La. also. These were the major shows that we would hit each year. Later on there would be the Fun Show in the spring in Shelbyville and The Trainer's Show in Nashville.
In 1966, I won first place ribbons at all those big shows except for the Celebration...I was Reserve Champion (Juveniles 12 years old and under) and the Juvenile World Championship. In 1967 we once again won everywhere we showed except for the Celebration, we were Reserve Champion again.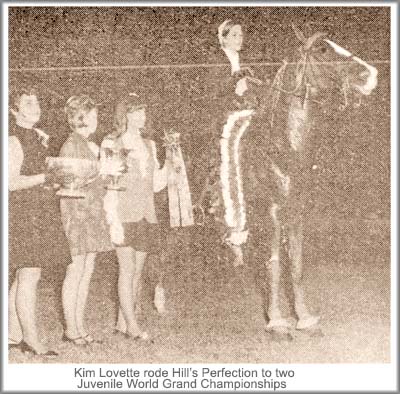 In 1968 we again had repeat performances, and again placed a respectable Reserve Champion at The Celebration. Then in 1969 it was the same thing BUT this time we WON at the Celebration. I was Beyond Thrilled!! Hill's Perfection put on the show of his life. We beat a class of 69 horses to emerge victorious and it was one of the toughest classes of horses to ever show in the juvenile division. It was a great night and I was so proud of my big red gelding!! 1970...We did the same and also won the Celebration. Unfortunately this would be my last Celebration on Hill's Perfection.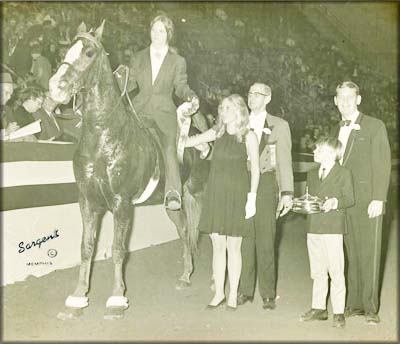 Sometime after the Celebration, Mr. Perot approached C.A. Bobo and told him he wanted to buy Hill's Perfection. Bobo contacted my Daddy and told him that this would be the best thing to do, (For Whom???) No, it was the best thing for Hill's Perfection in the long run. He couldn't have had a better place to retire and live out his last days. Daddy and I talked about it and what a wonderful home he was going to have after he retired. There was no way we could ever offer anything close to that to him. We decided it would be more selfish to have kept him than to let him go. So that is what we did. Through many tears and with lots of love; we sent him on to what we now know was a wonderful and loving home.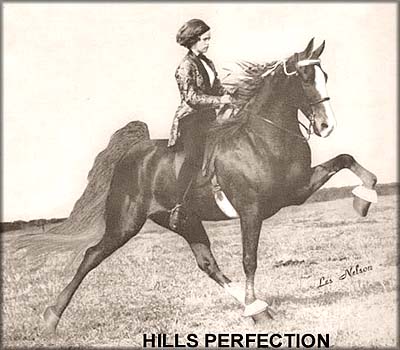 I am looking forward to the new page...I'm sure it will be a wonderful addition to the new site. You have done a fantastic job with the site! It is not only enjoyable to look through but informative and educational as well. Do you have a Facebook page for the ranch? If so let me know I will suggest it to all my Tennessee Walking Horse friends. Of course I'm not in the business anymore but I do know quite a few that still own horses. I left the business in '75. The way they were breeding their horses had even changed. Of course it was bound to change because our old stock was dying off; but there was something different about the way they were breeding their show stock. Plus, and this is the worst thing that happened, they changed the way our beautiful breed moved. The Tennessee Walking Horse of today barely resembles the horse that I knew and loved. Thank goodness for people like you because there are some of the original horses left but you sure don't see a lot of them. Unfortunately, they are not what the owners and breeders of the show horse of today seem to want. Oh well, didn't plan on going there at all, but I am more than happy to share with you how I feel about what has happened to our breed. I'm sure you don't feel good about it either. Of course you aren't a show person, and you are doing so many good things for the breed that you should (and deserve to) only feel positive about the breed and your contributions to it.

Thanks for all that you have done; and continue to do; for our beautiful Tennessee Walking Horses! We all need to be thankful that Jubal ended up in your very capable hands, he is a gem!! If I ever get in a position to where I can have a horse again you are my first stop. I want a Jubal daughter...I want Hill's Perfection bloodlines as close as I can get them. Maybe one day...I'm not giving up!!

Thanks for the opportunity you gave me to go back and dust off these old memories...it was such a wonderful time in my life.

Warmly..
Kim Lovette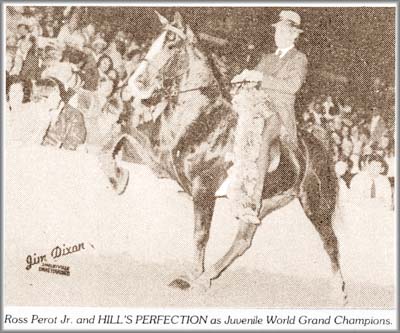 Ross Perot Jr. and Hill's Perfection as Juvenile World Grand Champions.
Hill's Perfection's Obituary
14 TIME WORLD CHAMPION, HILL'S PERFECTION DIES
October 17, 1983 -- WALKING HORSE REPORT
by Sarah Miller

In an October 10 telephone call from Ross Perot, Sr., the Walking Horse Report learned the sad news of the passing of that legend in his own time, Hill's Perfection, at the age of 28.

Perot said the gelding had been in excellent health and condition until the last few weeks, at which time the strength of his hind legs began to deteriorate. "As Hill's condition became progressively worse, upon the advice of our veterinarian, we put him down, a couple of weeks ago," Perot related.

It was at the 1978 Celebration that the walking horse world bid a fond farewell to one of the all time greats of the show ring, as this was when Ross Perot, Jr. guided the great gelding in a retirement ceremony that will always be remembered by those present.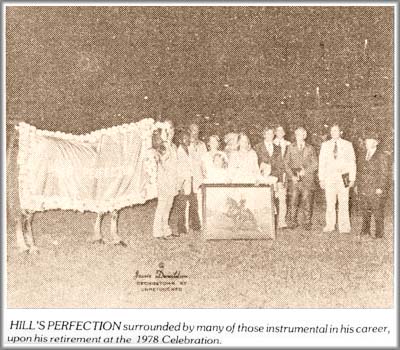 Hill's Perfection surrounded by many of those instrumental in his career,
upon his retirement at the 1978 Celebration.

BACK
Last Updated: August 06, 2014