Slush Creek Walkers horses are involved and succeeding in many different disciplines. We use ours in many areas of ranch work. We trail the cows to pasture, home or a different pasture. They are used during calving and Artificially inseminating cows. During these times the cows are checked every 3-4 hours unless there is something needing attention. Many times, it is more often. Horses we have raised and sold have gone on to win at the World and International shows in TWH over fences. One mare won Champion and Reserve Champion Titles in 3 Day Event classes. We sent a matched team broke to harness to pull a wagon in Florida. Then there are the O-Mok-See, (Native American for games on horseback). There are several different games at O-Mok-See; there is barrel racing, the flag race, pole bending, the pole race, and the keyhole race.
We have several in the mountains for packing, for hunting or for trail/pleasure in the mountains. We even have one that is in training for Search and Rescue in the mountains. There is a great big gelding in California that is a mounted police horse. We and a few of our horses have experienced the show ring and have come out winners, though the show ring really is not our cup of tea. We also have horses in Therapeutic Riding Programs and Endurance riding. In 2009 one of our horses and her rider were TWHBEA Endurance Horse and rider of the year. We are convinced that there is very little a Slush Creek Walking horse can't do, if given the chance!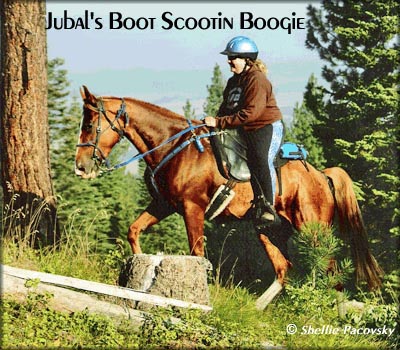 These horses are ranch/range raised. They are exposed to all forms of wildlife, and the elements from the time they are born. They have not been raised in a barn or stall. These horses live IN the great outdoors!

BACK
Last Updated: December 27, 2016