(

THE ULTIMATE BUM

x

ZEPHYR DAKOTA BREEZE

)
15.1 hand, sorrel sabino Tennessee Walking Horse mare, with white on inside both hind and off fore socks, outside near hind fetlock, outside off hind and off fore coronets, and a blaze. Foaled 04/24/2007. Horse is located in Montana. Overseas transport can be arranged.
Dale is a very pretty sorrel mare with a light mane. She has The Ultimate Bum and Allenís Gold Zephyr bloodlines. She can be bred to any of our 3 stallions.
Dale went to an Amish trainer for 30 days of training and did very well. She went up and down hills, through brush, over logs and none of it bothered her. She has been around dogs, kids, traffic and cattle. She is going to need a refresher course when the weather warms up as she did not get much riding after coming home. Dale is very smart, learns her lessons quickly. She will carry you all day long and make you a great trail buddy, as well as an excellent addition to your breeding program.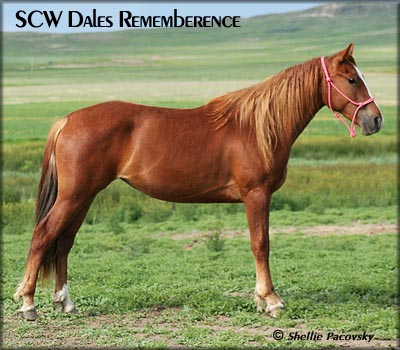 She has gone into training. Horse is located in Montana.
~~SOLD~~

Reference horses courtesy of

The Ancestor Gallery

BACK
Last Updated: December 27, 2016