There are a few noted Tennessee Walking Horse breeders here in the west that were dedicated to breeding some of the finest horses I know of. Pearl Thompkins, Marie McBroom, Ben Kuske and Calvin Miller are among those. All of them are deceased now but the legacy of their breeding programs live on. Of course, I am best acquainted with Calvin Millers breeding program.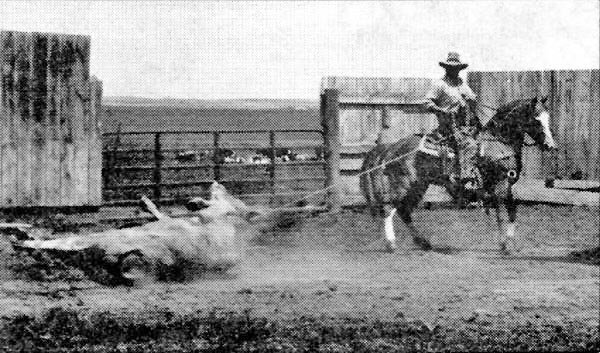 Sometime in the early to mid 1940's the late Calvin Miller, of the famed Double Diamond Ranch in Rhame North Dakota, began breeding Tennessee Walking horses. The Double Diamond Ranch was 24,000 acres, yes that is the right amount of zero's, in the extreme southwest corner of North Dakota and included some of South Dakota and Montana too. On this ranch were 1200 cattle and 300 buffalo, and a lot of the work was done on horseback. The rides were long and difficult; 10-40 miles a day in some pretty rough country were not uncommon. Calvin found that a Tennessee Walking Horse brought enjoyment and some comfort into these long, hard days of riding, noting that you could "ride 40 miles and hardly know you had been in the saddle".

In the very beginning of his breeding career, he purchased a direct son of Allen's Gold Zephyr who is better known as Roy Roger's Trigger, Jr. This colt was a gorgeous, nicely gaited, palomino named Zephyr's Flash O'Gold 472608. Calvin continued to stand and use Zephyr's Flash O'Gold for several years until he was traded to Marie McBroom. Calvin began to put more and more emphasis on gait and raising natural "run-walking" horses. With the focus on the gait Calvin felt they were better suited for "all around horses", his horses were used in all aspects of ranching. Calvin also looked for good bone and muscle, maybe even a bit heavier than some, athleticism; he looked for horses that showed some "cow-sense" and a love of working cows.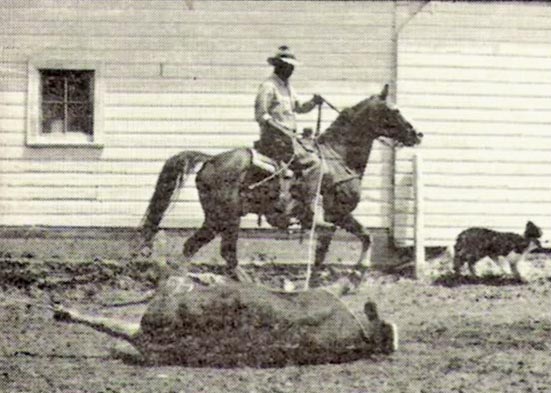 In the late 1950's there was a young TWH stallion, owned by James Gores, running in the badlands of North Dakota. He was a direct son of Midnight Sun. His name was Reyclif Mid-Merry #561395. Calvin must have seen something in this young stallion because for 3 years in a row, he took his highly prized mare, Lady's High Calico 540232 to this young stallion's court. Calvin was quite partial to this mare and felt she was one of his best run-walking mares. Wade, Calvin's son tells me that Lady's High Calico was a really bright copper sorrel that looked as if someone had thrown a bucket of white paint at her. She was registered as a sorrel roan with near hind and both fore stockings, off hind fetlock, inside both hocks, on both sides of body, both hips, both sides of neck, breast, both jaws, bald and a flax mane and tail. Hum, can any of you say sabino?

There were 3 foals born of this cross, a gelding, and 2 stallions. Sun's Merry Mister, one of the stallions, was sold to Canada and died there as a yearling. Calvin kept the other stallion, Sun's Merry Man 620157, and went on to use him heavily as a herd sire. Sun's Merry Man sired 174 registered offspring; he is the only line to Reyclif Mid-Merry to reproduce. As for Reyclif Mid-Merry, well, he went to Tennessee to be trained by Steve Hill and became the 14 time World Champion we all know as Hills Perfection!
Calvin's breeding program, Hill's Perfection with a little Ebony Masterpiece, was paying off. His horses were gaining respect and attention. They were now being used for trail riding, field trials for dogs, roping and dragging calves to the branding fire. Calvin and Wade were team roping on a pair of TWH's and doing well. Miller's Glamour Boy 677170, another of the stallions standing at the Double Diamond, could get out of the box as quick as any Quarter horse!
We are very grateful to Calvin, Maxine and Wade Miller for their years of experience and education in breeding naturally gaited using horses. It is our hope and our intent to stay as close to Calvin's proven using horse lines as possible. Thank you for allowing us the opportunity to continue.

BACK
Last Updated: September 03, 2014