(

Go Boy's Cannon Ball E.

x Dictator's Sisroe)
16 hand, bay Tennessee Walking Horse mare, with an off hind sock. Go Boy's Cannon Ball E., out of Dictator's Sisroe. She is a granddaughter of Merry Go Boy, and Go Boy's Dictator, with Merry Boy, Wiser's Dimples, Keene's Go Boy and Sir Winston S. on the next line of her pedigree, and Roan Allen F-38, Merry Legs F-4, Giovanni, Midnight Sun, Merry Go Boy, Midnight Bessie and Go Boy's Shadow on the last line. Dam of 1 foal to date. Foaled 06/21/1994.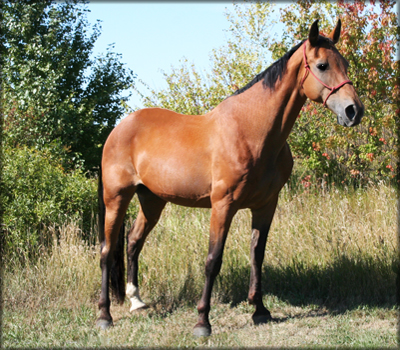 Go Boy's Della has had her foal by SCW Counting Cadence. SCW GO BOY'S LEROY BROWN #pend. is a bay stud colt, with two hind socks and a star. He will be eligible to be

Heritage-certified

. Foaled 05/03/2016.

Reference horses courtesy of

The Ancestor Gallery
GO BOY'S CANNON BALL E.
MERRY GO BOY
MERRY BOY
ROAN ALLEN F-38
MERRY LEGS F-4
WISER'S DIMPLES
GIOVANNI
WISER'S MINNIE
MY MIDNIGHT ANN
MIDNIGHT OF OAKWOOD
MIDNIGHT SUN
DIMPLE HOPKINS
ELROD'S BLACK BEAUTY
MIDKNIGHT G
BLACKEY B.
GO BOY'S DELLA #941415
SEX: mare COLOR: bay MARKINGS: off hind sock. FOALED: 06/21/1994
TAYLOR'S MERRY GIRL
MARK'S CRACKER JACK
MARK OF MERRY BOY
MERRY BOY
LADY PROM
VAGABOND MISS
JET'S GO BOY P.
RHODA ALLEN QUEEN
RED BUD'S LADY BUG
RED BUD'S RASCAL
RED BUD ALLEN
MERRY MAN'S STARR
APRIL FLOWER T.
DUKE OF DEARMANVILLE
LU LU TAYLOR

iPeds Production
09/17/13

Horse No: 941415 GO BOY'S DELLA

Horse No.
Name
Sx
Bl
DN
Foaled
Horse No.
Name

19909354

GO BOY'S DAWN ALLEN
M
Y
N
4/09/1999
941414

SOCIETY'S DAN ALLEN
SCW GO BOY'S LEROY BROWN
S
Y
N
05/03/2016
20700732
BACK
Last Updated: December 21, 2017